UXRO
a
posted
Mon at 21:21

About page:
Main purpose of this page is to show you Minecraft items/block/heads ID's. Website is really easy to use all you need to do is type item name and it will show you item/block name and ID. I also worked hard to include per versions items (from 1.1 to 1.8) so you won't get items that are not even on version that you play.





Version selection: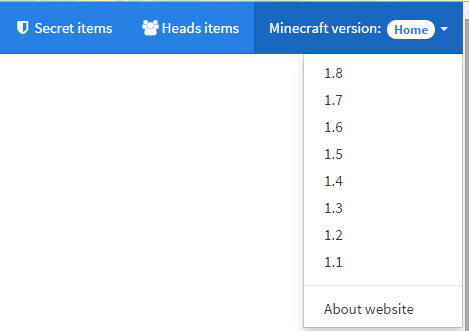 (Dropdown menu also tell you on which page you're located)



Why is better then other pages:
- Fast loading (thanks to bootstrap)
- Modern & clean design
- No advertisements
- Per version items (from 1.1 to 1.8)
- Different skulls/heads
- Secret items
- Tutorial on how to give yourself item
- Quick ID selection
- Simple website link ( id.7miners.com )

About secret items:
Secret items are coming with next website update. We are currently exploring what we can add to list. We will add per version secret items so you won't get confused what you can use in which version.

About heads items:
This are users heads that you can use to decorate different creations that you made. You can find small blocks, items, food,...



Coming soon updates:


- Mobile version of site (Right now it won't fit and work with phones)
- Crafting tutorials
- Per version secret items
- Category heads (example: food, decoration,...)
- New minecraft versions (really soon 1.9 items will be added)
- and more...
You can visit website project on following link: >>Go to website<<